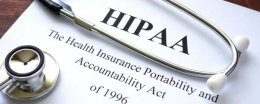 The loss of an unprotected BlackBerry and a unencrypted laptop containing the private medical records of 6,200 individuals has resulted in a $3.2 million HIPAA penalty against a Dallas-area hospital.
Federal investigators determined that Children's Medical Center of Dallas ignored repeated advice from internal and external experts – dating back to 2007 – warning about a number of risk factors that jeopardized the security of patient information.
Read the whole story at Healthcare IT News
If your organization handles protected health information, HIPAA Gap Analyses and Remediations, annual audits, and quarterly scanning are essential for achieving compliance objectives. DataLink can help you get where you need to be. Contact us today: 410.729.0440 or sales@DataLinkTech.com.