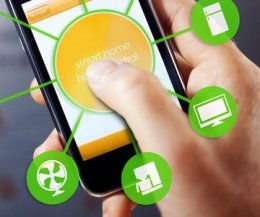 Much of the concern about implementing the Internet of Things (IoT) centers on how to manage, monitor and secure this new infrastructure. The worldwide installed base of IoT endpoints is expected to grow to more than 30 billion in 2020, according to IDC, so the concern is justified.
This situation calls for a comprehensive management solution. Later this year, VMware will release Pulse IoT Center, a solution that will simplify management of diverse types of IoT endpoints as easily as one. With VMware Pulse IoT Center, businesses will be able to:
Simplify the complexities of managing connected "things" including:
Easily on-board, manage, monitor and secure diverse IoT edge systems, connected devices and applications from a single console.
Interoperate between heterogeneous edge systems and connected devices with different hardware, operating systems and communication protocols.
Define and track what, where and when things are updated over the air (OTA) or changed – with a sophisticated and flexible rules engine.
Access accurate and real-time thing health and provide the ability to act on anomalies before they arise including:
Real-time infrastructure analytics and real-time monitoring.
Ability to visualize all edge systems, connected devices and their relationships (i.e., status, location, dependencies) IoT use case grouping.
Defining KPIs / measures, alerts, and actions.
Secure IoT infrastructure across things, edge, network and applications, including the ability to:
Minimize data exposed by creating a tunnel from data point to application.
Enterprise wipe of data from devices at any time if they are exposed to security threats.
Maintain up-to-date firmware and security patches and upgrade software OTA via an integrated policy engine.
Streamline and accelerate how IoT gets deployed and scaled to:
Simplify the deployment of an IoT with one management tool for all devices.
Speed time to value with a simple way to onboard devices and update them over time.
Dynamically deliver the right information to the right thing at the right time – from edge to cloud with software lifecycle management.
Looking to improve your organization with IoT? VMware Pulse IoT Center will help make managing all your data and devices simpler as you journey toward the next digital transformation. Contact us today: 410.729.0440 or sales@DataLinkTech.com.