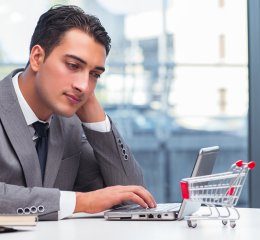 Online sales this holiday season have shattered all previous records with Cyber Monday hitting $6.6 billion, Small Business Saturday and Sunday delivering $5.12 billion, and Black Friday reaching $5.03 billion. And the nationwide online holiday shopping spree isn't over yet…
Employees routinely use their office computers to shop online for gifts, many spending an hour or more looking for bargains. Even more use their smartphones for bargain hunting, dividing their time between business apps and shopping apps. Unwittingly, they are putting their employers at increased risk of viral Internet threats such as malware and phishing attacks.
These attacks come from a variety of sources, such as downloading fake apps, clicking on fake advertisements, and opening fake email links – all of which can unleash destructive malware that can spread across the corporate network to other computers. The results can be devastating, ranging from the theft of intellectual property and sensitive customer data, to the complete shutdown of critical systems until a ransom is paid.
Surveys have found that security is not top-of-mind among most employees. Many do not use secure browsing technology on work-supplied and personal devices, and most assume their IT department keeps their desktop computers and mobile devices safe with timely security patches and up-to-date anti-virus software.
With the increasing number of portable computers and mobile devices in the workplace, plus employees' short attention span on security matters, companies need to create a realistic security policy that lets employees stay mobile and access off-net resources without compromising the business.
DataLink can help your business put everything in place – systems, tools and policies – to substantially shrink your cyber security risk. Contact us today: 410.729.0440 or sales@DataLinkTech.com.